Structural Fireproofing Photos
Below are photos of some current projects, which include providing specialized coatings for hospitals, public schools, universities, government buildings, airports, public libraries, and more. Specialized coatings include steel fireproofing, acoustical insulation, cementitious fireproofing, spray thermal insulation, and more. To learn more about our projects, call us at 727-821-9600. You can also view our References and Contact Us online.
Appalachian State University – Reich College
Boone, North Carolina
Client: Hickory Construction
Project consists of an addition of 160,000 square feet of educational space spread out on 6 floors. The areas will provide the most up to date and modern technology for higher learning. Architectural Coatings, Inc. is providing the specialized coatings on all the Structural Steel.
Madison Co. Medical Center/Pipe Basement/Power Plant
Canton, Mississippi
Client: M.J. Harris Construction
The Madison County Medical Center is a 67-bed replacement hospital facility. It is currently under construction in Canton, Mississippi. When complete, it will be the primary medical facility for Madison County. The hospital will provide a full range of acute care services, with 55 medical / surgical hospital beds, 8 intensive care beds, and 4 labor and delivery rooms. The hospital will also provide 4 surgical suites, emergency room department, radiology department, outpatient surgery department, food services and dietary department, as well as the support facilities required to operate and maintain the facility. Architectural Coatings, Inc. is providing the specialized coatings on this project. The coatings include Cementious Coating to all the Structural Steel. The vast majority of this project is in the 60,000 square feet MEP Pipe Basement.
New World Symphony
Miami Beach, Florida
Client: Facchina McGaughan LLC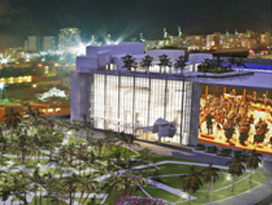 Facchina is currently in the final stages of building this landmark 6-story, 50,000 square feet variable seating performance hall, digital music library, 26 individual rehearsal rooms, six ensemble rehearsal rooms and a multi-purpose room. All will be outfitted with Internet 2 technology which is 100,000 times faster than the broadband in use today and is now limited to only a small number of businesses, universities and government agencies. The project also includes fellow changing rooms, administrative offices and over 100 instrument lockers. Signature features of the campus will be the east façade of the building, which will showcase a glass curtain wall allowing passersby a glimpse of the inside architecture, and a projection wall on which live concerts, master classes, large-scale images and films may be viewed from the new park. The project was designed by world-renowned architect Frank Gehry. Architectural Coatings, Inc. is providing all the specialized coatings for the Structural Steel on this project, as well as fire stopping/safing for Window Wall Systems and Acoustical Coatings.